Synopsis

Morgan, a widower in his 70s, struggles to belong in the world after his wife passed away. His misery reaches new levels he gets fined for driving too fast. He then decides to pay his fine by spending five days in jail, and life gets a new meaning—he starts to feel useful and appreciated again. After his release, life on the outside becomes a gigantic downer and he makes it his mission to get back in behind bars.
Director's Statement
"Holy Jail" is inspired by my grandfather, who during the summer of 2018 was faced with the same dilemma as 'Morgan' in this story — he would rather go to jail than to pay his speeding ticket.
His decision raised questions I want to explore with this film. Why would anyone rather give up their freedom than pay a fine they could afford?
What if freedom in its conventional sense becomes insignificant when you've lost what matters the most to you; your spouse and your ability to do what once made you feel useful and appreciated?
What if true freedom is feeling loved and useful, even if you have to go to prison to find it?
"Holy Jail" is my second-year film for the NYU's Graduate Film Program — the centerpiece of the curriculum. With a full year devoted to this one film, I am reaching higher than I ever have before. Everything from the locations, crew and budget reflects the vision and ambition I have for this story, and I can hardly wait to see it come to life on the screen.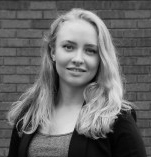 – Maria Lavelle